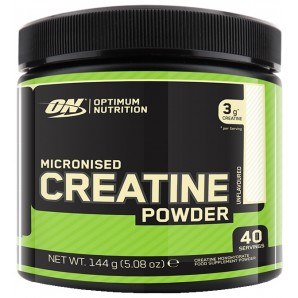 ON Creatine 144g
£4.99
Optimum Nutrition Micronized Creatine Powder - 144g (40 Servings)

Highly researched and well absorbed, creatine monohydrate has been shown to increase physical performance during high-intense activities.

Optimum Nutrition Micronised Creatine Powder is made with a creatine monohydrate known for its exceptional purity and potency.

Key Facts:

Micronized to Stay Suspended in Solution Longer
Unflavored
No Fillers or Additives
Supports Strength and Power

Serving Information:
Container Size: 144 g
Serving Size: 1 Teaspoon (3.6 g)
Servings Per Container: 40

Amounts Per Serving:
Creatine Monohydrate: 3.4 g
Creatine: 3 g

Ingredients:
Creatine monohydrate

Recommended Use:
Add 1 rounded scoop to a glass filled with 240 ml of cold water or fruit juice. Recommended daily consumption of 1 serving per day.

Suitability / Allergen Information:
May contain milk, soy, gluten, egg, nuts and peanuts.
Customer Reviews
This product has not yet been reviewed.
Copyright © Taurus Health & Fitness | Powered by
NITROSELL