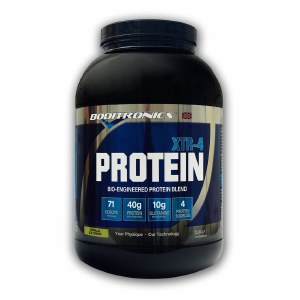 Express Protein XTR-4 Banoffee
£29.95
Boditronics Express Protein XTR-4 is a complete engineered protein blend consisting of a precise mixture of whey protein concentrate, micellar casein, egg albumen and soy protein isolate.

Protein is an essential building block of the human body and is required in order for the body to repair itself and grow bigger and stronger, especially after strenuous exercise. It also aids in the transportation of nutrients, oxygen and nitrogen to the body's cells, keeping a positive balance of these key nutrients is essential for a healthy, strong and fit body.

Key benefits of Express Protein XTR-4:

40g of XTR-4 protein consisting of Undenatured Whey Protein Concentrate, Micellar Caesin, Egg Albumin & Soy Protein Isolate
Contains Pre-Biotic fibre to aid healthy digestion
High in glutamine and essential amino acids for nitrogen transport & muscle recovery
Stunning flavours
Supplement Facts:
Serving Size: 56g
Servings Per Container: 38
2.1kg
Amount Per 56g Serving:
Protein - 40g
Total Carbohydrates - 8g
- Of Which Sugars - 7g
- Of Which Dietary Fibre - 0.5g
Fat - 2.8g
- Of Which Saturates - 2g
Sodium - Trace

Ingredients:
Express Protein Blend (Whey Protein Concentrate, Glutamine Peptides, Soya protein Isolate, Micellar Caesin [from Milk Protein Concentrate], Egg Albumen), Inulin, Flavouring, Natural Colour, Xanthan Gum, Artificial Sweetener (Sucralose).

Taking Boditronics Express Protein XTR-4:
Add 2 heaped scoops to 300-400ml of water in a shaker cup or blender and shake for 15 seconds. Consume immediately. Take 2-4 servings per day as required.
Customer Reviews
This product has not yet been reviewed.
Copyright © Taurus Health & Fitness | Powered by
NITROSELL