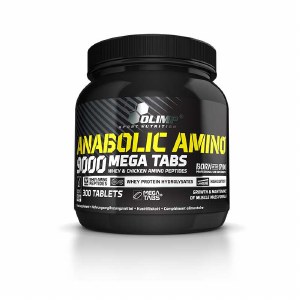 Anabolic Amino 9000
£28.99
The first preparation on the market with such an advanced amino acid composition!

No fiction, just facts!
A comprehensive protein preparation, in which the top quality enzymatic hydrolisate of the two best sources of animal protein – whey protein and chicken protein – are the main source of proteins. This combination ensures obtaining an amino acid profile not present in any other preparation based on hydrolyzed protein. Additionally, the use of chicken protein hydrolisate in ANABOLIC AMINO® 9000 MEGA TABS® increases over 6 times the content of glycine, two times of L-arginine, 1.8 times of L-proline and 1.4 times of L-alanine. Glycine participates in the transfection of signals in the central nervous system serving as the transmitter (NMDA receptor activator), constitutes the substrate for the synthesis of components of nucleic acids (necessary for synthesis of protein) and contributes to the correct performance of hematopoietic processes (hem synthesis). L-alanine in addition to its building function of body structural proteins, is used in the liver for synthesis of glucose, thus protecting against muscle cannibalism (when taken before training) or contributing to rapid supplementation of energy reserves and protein synthesis (taken after training). The two times higher content of L-arginine in ANABOLIC AMINO® 9000 MEGA TABS® compared to standard protein hydrolisate available on the market causes the increased synthesis of nitrogen oxide, positively contributing to muscle blood flow and supplying them with nutrition macroelements. In addition the significant supply of L-arginine in ANABOLIC AMINO® 9000 MEGA TABS® has a stimulating effect on the secretion of growth hormone, which is very important during the post-exercise period. It is also important that L-arginine, belonging to the group of alkaline amino acids, plays a major role in maintaining the acidic-alkaline balance of the body, strongly distorted by intensive training. For this reason the very high content of L-arginine in ANABOLIC AMINO® 9000 MEGA TABS® is so important.

Best consumption time: immediately after waking up, before eating, 30 mins before training and immediately after training

In order to maximise the reduction of fat tissue it is recommended during the pre-training period to combine ANABOLIC AMINO® 9000 MEGA TABS® with selected OLIMP thermogenic products (Thermo Speed ®, Thermo Stim, Therm Line® forte or Therm Line II®, the dose according to producer's recommendations).

ANABOLIC AMINO® 9000 MEGA TABS® is the first preparation on the market composed using appropriate hydrolisates of determined protein sources so that in addition to the typical benefits offered by the standard products based on whey protein hydrolisate, it intensifies other metabolic processes key for the harmonious development of the sportsman's body and his exercising capability.
Building form means taking care not just of the muscle, but of the integrity of all metabolic processes leading to their development and improved general efficiency. ANABOLIC AMINO® 9000 MEGA TABS® is Olimp Laboratories® answer of for all people taking a professional and comprehensive approach to sport.
USAGE
The product is designed for sportsmen, who strive for development of muscular mass and require increased demand of energy.
DIRECTIONS FOR USE
Depend on body weight take 2-5 tablets 3 times a day. The product is recommended to adults as a food supplement. Keep out of reach of children. Do not exceed the recommended daily dose. Food supplements should not be used as a substitute for a varied and balanced diet. - 70 kg - 6 tabl. (3 x 2 tabl.). 70 kg - 90 kg - 9 tabl. (3 x 3 tabl.) 90 kg - 105 kg - 12 tabl. (3 x 4 tabl.) 105 kg + -15 tabl. (3 x 5 tabl.)
COMPOSITION
Ingredients: Anabolic Amino 9000 blend (whey protein hydrolyzate, chicken protein hydrolyzate), collagen protein hydrolyzate, calcium phosphate – firming agents, microcrystalline cellulose, silicon dioxide - bulking agents, magnesium stearate - anti-caking agent, aroma.
Customer Reviews
This product has not yet been reviewed.
Copyright © Taurus Health & Fitness | Powered by
NITROSELL