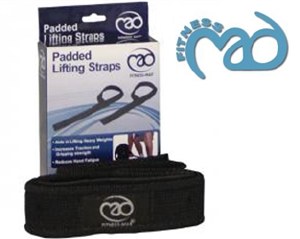 Padded Lifting Straps
£4.95
Lifting straps help with heavy lifting by providing a more secure grip of the bar, and these high quality straps from Fitness MAD feature comfortable neoprene wrist pads on heavy duty cotton webbing straps.
One size fits all, length 61cm (24") x 38mm

Padded Lifting Straps improves grip for a better workout and help you lift more weight comfortably during exercises such as dead-lifts and pull-ups.

Simply slip the Padded Lifting Straps onto your wrists and wrap them tightly around the dumbbell bar for a secure grip.
Comfortable neoprene padding
Made of 100% heavy-duty cotton
Extra Length allows for additional wrapping around bar.

Machine washable.
Customer Reviews
This product has not yet been reviewed.
Copyright © Taurus Health & Fitness | Powered by
NITROSELL