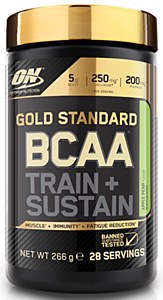 Gold Standard BCAA Apple Pear
£19.99
Optimum Nutrition Gold Standard BCAA (28 Servings)

Gold Standard BCAA is built on a foundation of Branched Chain Amino Acids prized by athletes for their ability to spare muscle during endurance training and help kick start the muscle building process after weight training. This banned substance tested formula also includes electrolytes, antioxidant vitamin C and other performance supporting ingredients in a lightly flavored mix that encourages drinking throughout your training.

Features
BCAAs for muscle support
Wellmune for immunity support
Rhodiola for Endurance Support
15% of the Daily Value for Vitamin C
Tested for Banned Substances
Serving Information
Container Size: 266 g
Serving Size: 2 Scoops (9.5 g)
Servings Per Container: 28
Amounts Per Serving
BCAA's: 5.0 g
Leucine: 2.6 g
Isoleucine: 2.6 g
Valine: 1.2 g
Wellmune: 250 mg
Rhodiola Rosea: 200 mg
Vitamin C: 19 mg
Magnesium: 66 mg
Chloride: 183 mg
Sodium: 77 mg
Ingredients
BCAA Blend (L-Leucine, Isoleucine, Valine, Emulsifier; Soy lecithin), Acids (Citric Acid, Malic Acid, Tartaric Acid), Flavouring, Yeast, Beta Glucans (Wellmune), Rhodiola Rosea Extract, Anti-caking Agents (Silicon Dioxide, Calcium Silicate), Sodium Chloride, Potassium Chloride, Colour, Magnesium Oxide, Sweetner (Sucralose, L-Ascorbic Acid

Recommended Use
Add 2 rounded scoops (9.5g) with 350 ml of cold water.
Recommended consumption of 1 serving per day.
Suitability / Allergen Information
May contain milk, gluten, egg, nuts and peanuts.
Customer Reviews
This product has not yet been reviewed.
Copyright © Taurus Health & Fitness | Powered by
NITROSELL